Step-by-Step Guide to Registering for Patient Access on Diabetes My Way 
Click here for Registration Troubleshooting Guide
1. BEFORE YOU REGISTER FOR DIABETES MY WAY YOU WILL NEED:
an email address
to be registered for Patient Online Services with your GP practice
to ask your GP to enable your detailed coded record for Labs, Results and Problems
Please note - normally when you register for online services you are required to visit your GP practice in person to show ID to prove your identity. Due to coronavirus people are being asked not to visit their GP practice. If you need to register for online services, contact your GP practice or check their website to see how to register.
2. Once you have registered for online services: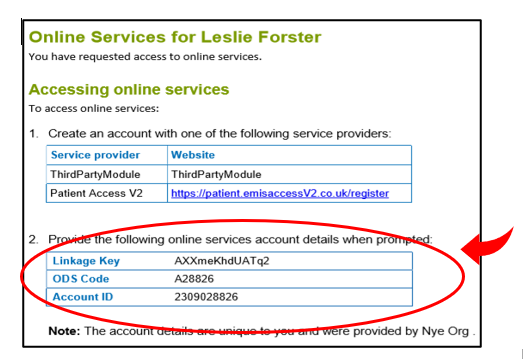 When you register for online services your GP practice will send you an email or give you a letter like the one shown on the left.
You will need your three codes like the ones circled in red on the left.
Linkage Key
ODS Code
Account ID
These codes connect your  Diabetes My Way registration to your GP practice and your clinical data.
4. On the Diabetes My Way homepage:
Click on the 'Register' button as indicated below: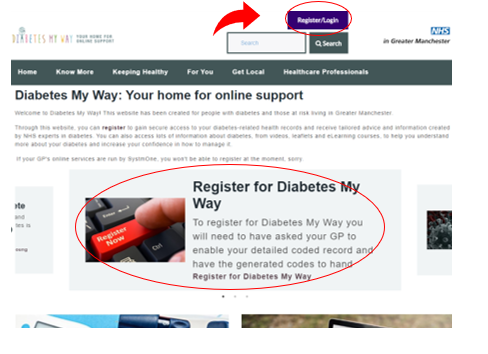 5. Click on 'Register' as shown below: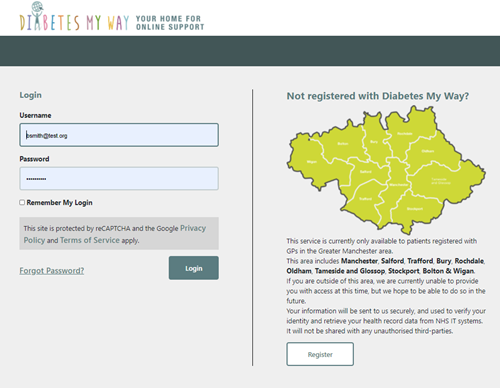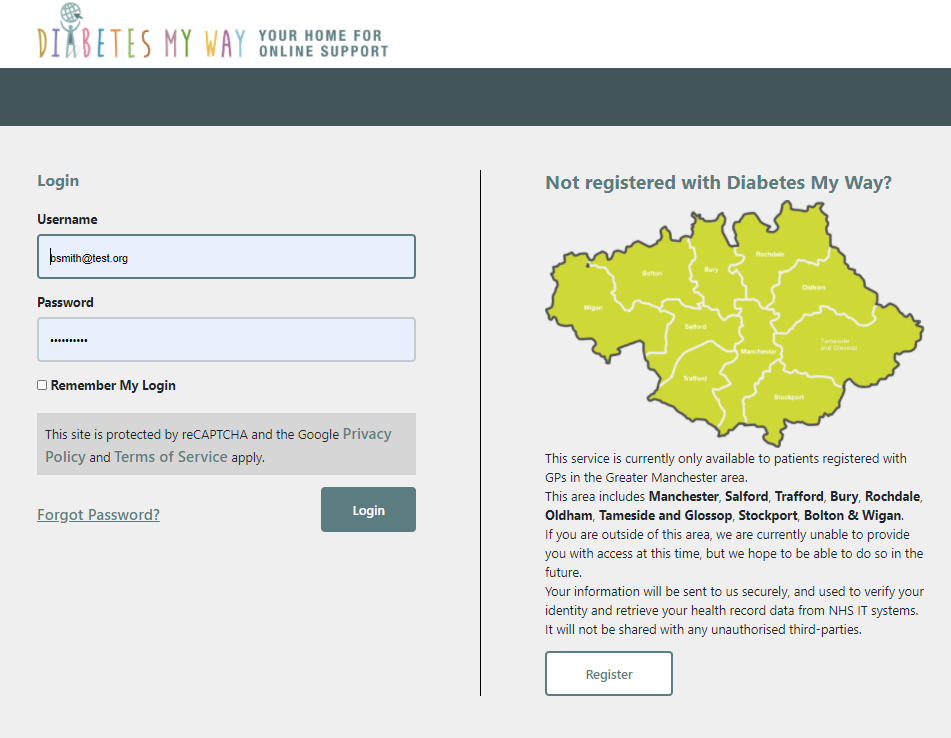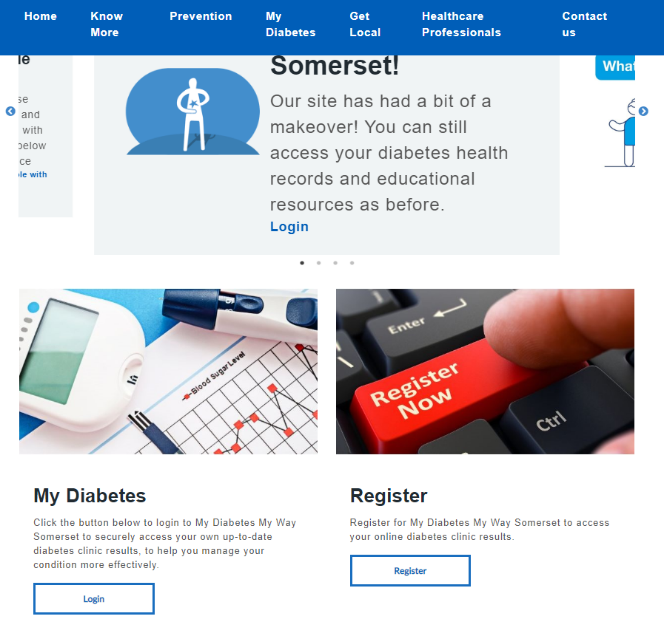 6. Enter the 3 codes you received from your GP practice plus your surname, date of birth and email address in the boxes indicated below:
                                                                                                  
7. Enter your password and confirm it.
8. Read the terms and conditions (T&Cs) and consent notices:  
You will need to agree to the first two items to be able to continue.
9. On the 'Create Account' page:
You will be asked to create a password to use the service and also be asked some questions to assess your suitability for the Diabetes My Way, associated research study and additional services.
10. You will then be sent an email with a link that allows you to log in to your Diabetes My Way account.
Troubleshooting Guide
Having problems registering?
Check out our troubleshooting guide below:
Query

Information

Action to Fix

I got an error message to say my permissions are not correct.

If you get a message to say your permissions are not correct, this means you need your GP practice to enable your detailed coded records.

 

Your detailed coded records allow you to see your test results such as HbA1c and other diabetes clinical data.

We suggest you get in touch with your GP practice and say:

 

"I would like to register for Diabetes My Way and need you to enable my detailed coded records for Laboratory test results, Immunisations & Problems so that I can complete my registration and access my data"

I'm not sure if I'm registered for Online Services.

 

If you have not registered for online services, you need to contact your GP practice they will advise you if you have already registered and if you haven't, they will tell you what you need to do next.

I have registered for online services, but I don't have the three codes I need.

 

You should check your email inbox for an email at the time of registration. Try searching under the topic 'online service'.

To re-request your codes, please get in touch with your GP surgery.

I'm still having problems, or I need more info.

 

 

You can send an email to the team at manchester@mwdh.co.uk and we will send you more information about registering for online services and send you reminder about completing the registration process