Each patient with diabetes must be configured correctly for online services, to allow them to successfully register with the Diabetes My Way Platform.
EMIS
This EMIS Web Knowledge Base article gives a full guide to registering a patient for Online Services.
Online services for the patient must be set to Detailed Coded Record, and all coded reading options - Allergies, Medication, Laboratory test results, Immunisations & Problems must be ticked.
Documents and Consultations are not required for Diabetes My Way, so it doesn't matter for our purposes whether these are on or off.
Diabetes My Way does not require free text, only coded entries with numeric values.
A patient with minimum appropriate settings looks like this: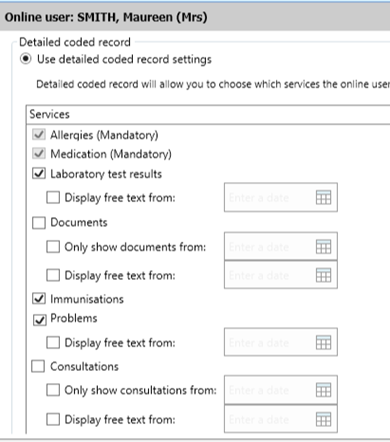 A more detailed step by step guide is:-
Click on EMIS BALL
Click on REGISTRATION
Under patient name banner - there will be a list of tabs
Click on no 3 - which is ONLINE SERVICES
Click on – VIEW ONLINE USER
Scroll to the bottom of the page and find the patient name and click on it
Click on EDIT ONLINE USER ACCESS
A box opens up
Scroll down
Make sure DETAILED CODED RECORD SETTINGS IS ON
TICK:
ALLERGIES
MEDICATION
LAB RESULTS
IMMUNISATIONS
PROBLEMS
Press OK & it is now set.
You will need to do this for every patient that is signed up to Diabetes My Way.
Vision
This Vision Knowledge Base Article gives a complete guide in registering patients for Online Services using the Registration module.
In the Online Services setup, the top-level permissions for the patient should meet or exceed those set at the practice level, although the practice level settings will take precedence when disabling options. This means a minimum of Demographics, Summary Record and Detailed Coded Record are required.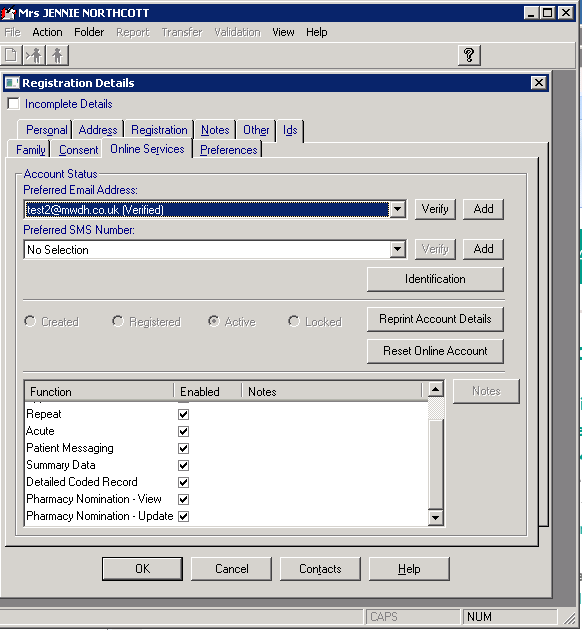 The granular permissions are then set up in the Detailed Coded Record Review patient app. All options must be ticked to enable correct data flow to Diabetes My Way, with the exception of Events & Recalls - this is optional.
A patient with the minimum settings looks like this: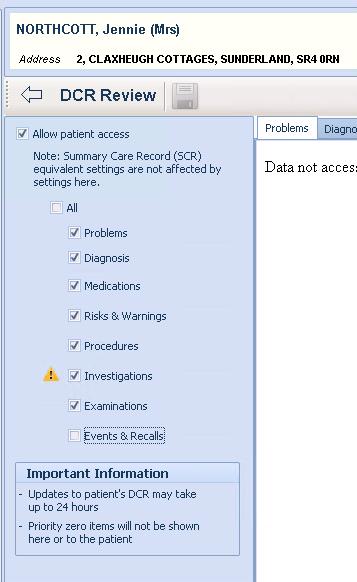 Full details of what each setting includes are available on the Detailed Coded Record Review page and a preview of the data for that patient should be shown in the tabs to the right of the permissions.