What is a Low Calorie Diet?
A low-calorie diet (LCD) is defined as a diet with a calorie intake of up to 900 calories or less a day. The recommended calorie intake for adults is around 2,000kcal per day for active women and 2,500kcal for active men. 
Background 
The programme is based on two large studies which showed that, as a result of going on a specially designed programme, people living with Type 2 diabetes who were overweight could improve their diabetes control, reduce diabetes-related medication and, in some cases, put their Type 2 diabetes into remission (no longer have diabetes).
Launched in Autumn 2020 the programme provides a low-calorie diet treatment for people who are overweight and living with Type 2 diabetes. Greater Manchester is one of the national pilot areas with free places available for hundreds of residents.
What is the programme?
A one-year programme combining specialist nutrition, psychology, and physical activity
Provides 12 weeks of total diet replacement (soups and shakes) of up to 900kcals per day
Supports rapid weight loss and long-term behaviour change
Support throughout from your diabetes practitioner via regular contact, with online learning and supporting resources
Who is eligible for the programme?
People living with Type 2 diabetes who have been diagnosed in the last six years 
People aged 18-65 years
Individuals must also meet other eligibility criteria to be referred to the service to ensure the programme is right for them.
Results so far
We are seeing some amazing results so far including an average weight loss of 14.3kg (over 2 stone) at the end of the first 12 weeks of low-calorie diet, and an average 7.3mmol/mol HbA1c reduction. Read Derek's story below.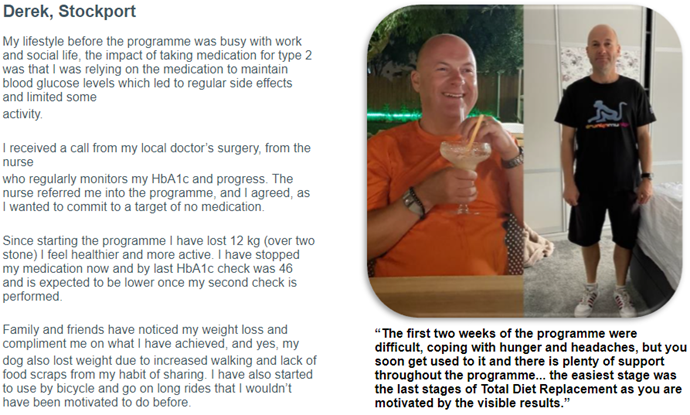 Read more participant's journeys here. 
How do I join the programme?
Participating GP practices across Greater Manchester are able to refer eligible patients into the programme. You may be able to join if you meet the eligibility criteria. If you would like more information about the programme you can join one of our information sessions which can be booked here. 
Tracking your Progress
Registering for Diabetes My Way will allow you to track your progress on your weight loss journey, you will be able to see your weight, BMI and waist measurement, click here to register.