What is the NHS Type 2 Diabetes Path to Remission (T2DR) Programme?
The NHS T2DR Programme is a FREE new one-year programme to support you to
Lose weight
Stop or reduce your diabetes medications on Day 1 of the programme
Feel fitter, healthier, and happier
Potentially put your diabetes into remission. This means your blood sugar levels are no longer in the range for diabetes and you don't need to take any diabetes medications
How is the programme delivered?
The NHS Type 2 Diabetes Path to Remission has three-phases over one year – all at no cost to you:
1. You'll follow a low calorie diet for 12 weeks – your choice of soups, shakes, and bars totalling 800-900 calories per day
2. You'll gradually replace these products with healthy, tasty meals over six weeks
3. You'll receive ongoing support for the last 8 months to help you maintain your weight loss.
Our trained Coaches will support you with easy-to-use tools and techniques to lose weight and keep it off. Each of the 21 in-person or app-based 'sessions' focuses on a new topic about nutrition, physical activity, or lifestyle change.
You'll be given the meal replacement products and a range of high-quality resources including Workbooks, a Lifestyle logbook, recipes, a pedometer, and a year's access to the EXi physical activity app premium version for - ALL FREE. If you choose the digital service also get access to our app.
Who is eligible for the programme?
You need to be:
Registered with a GP practice in Greater Manchester
Aged 18-65
Diagnosed with Type 2 diabetes within the last 6 years
Above a healthy weight
Able to commit to a 12-month programme
Willing to be coached individually either in in-person appointments or using an app
Comfortable with just soups and shakes for the first 12 weeks.
You also need to meet various other eligibility criteria, including: Not on insulin, not pregnant / planning pregnancy in the next 12 months, and not had bariatric surgery.
For more information on the programme and eligibility criteria please visit our service provider's website here.
How do I join the programme?
Participating GP practices across Greater Manchester are able to refer eligible patients to the programme. If you're eligible and interested ask your GP practice for more details.
Results so far
We are seeing some amazing results so far including an average weight loss of 14.3kg (over 2 stone) at the end of the first 12 weeks of low-calorie diet, and an average 7.3mmol/mol HbA1c reduction. Read Derek's story below.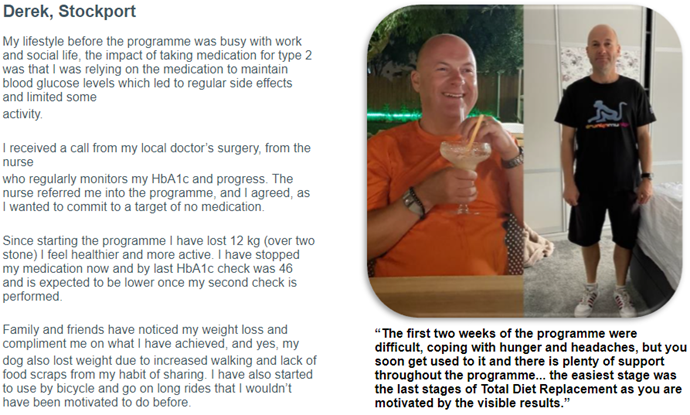 Tracking your Progress
Registering for My Way Diabetes will allow you to track your progress on your weight loss journey, you will be able to see your weight, BMI, and waist measurement, click here to register.